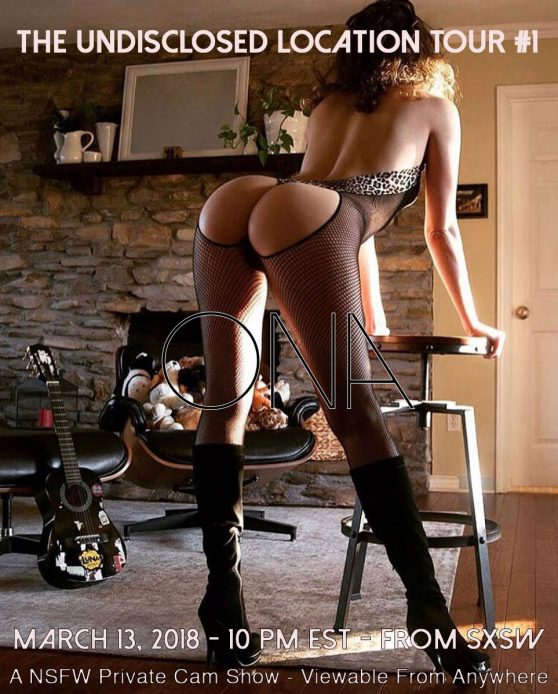 PLEASE NOTE: This is a NSFW virtual webcam show that involves nudity, sex toys, and masturbation, so you do not have to be in Austin, TX to see it – you can be anywhere with wifi – but you must be at least 18 years old! Also, scroll down to hear the first three songs from the ten song album I'll be performing.
Join Onagram here and get the show for free.
When Is It: Tuesday, March 13, at 10 pm ET (New York City Time)
How Can You See It: Just join OnaGram.com, and all members will receive webcast viewing instructions on the member's page.
I'm kicking off my Undisclosed Location Tour with a virtual cam show from an undisclosed location at SXSW in Austin, TX. Each show in the tour is my chance to share the songs from my debut album, ONAMANIA, which drops on June 8, 2018. Ticket buyers will receive the following: 1) exclusive access via webstream to a private concert in which I sing, dance, strip, and enjoy a happy ending with my fans, 2) exclusive access to the Snapchat After Party for more NSFW fun, and 3) a free download of the entire ONAMANIA album (ten songs).
I look forward to sharing this virtual concert, the after party, and the album with you. It's going to be a total blast…and just to tease you a bit, it's also going to include laser lights, lots of sexy outfits, full nudity, naughty microphone play, and a full-on happy ending with toys for everyone. Can't wait to get it on with you!
Be sure and check your spam folder for your confirmation email. If you have any problems with your transaction, email support @ onagram.com.